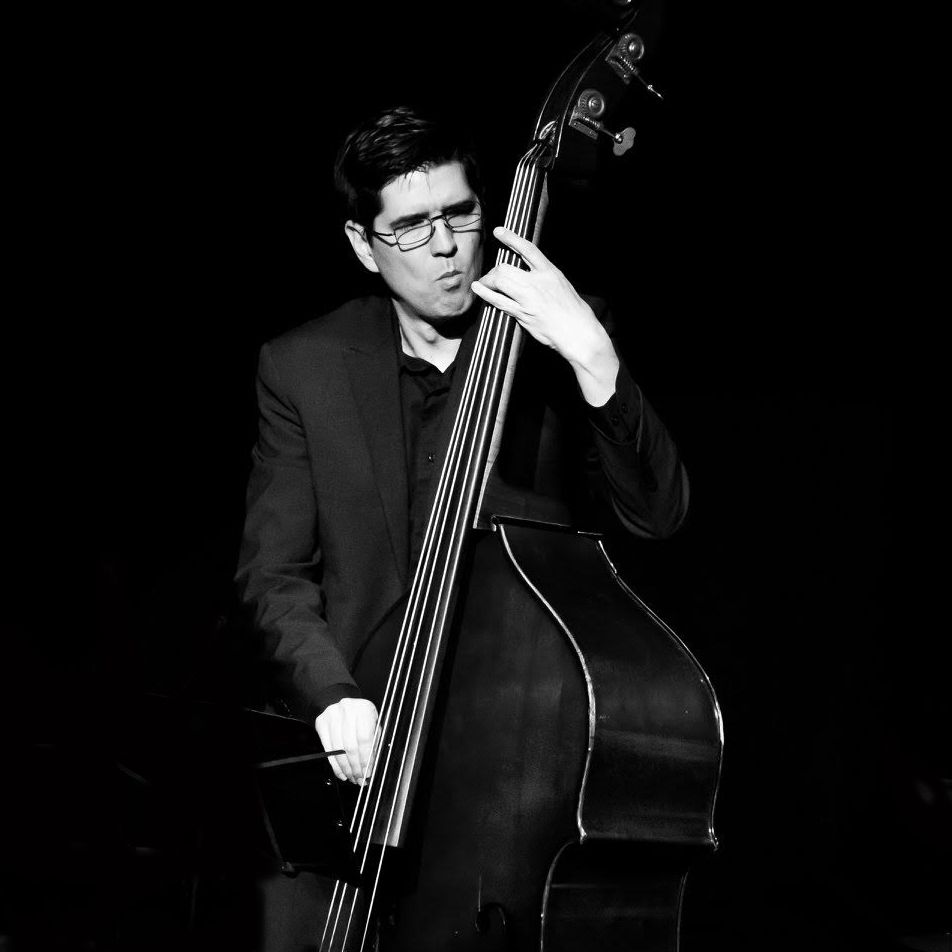 "The angular version Mr. Stigers offered of Elvis Presley's Sun Records classic "That's All Right" illustrated the stylistic proximity of rockabilly and cool jazz...  ...Cliff Schmitt on bass took the song into an imaginary jazz cellar of the 1950s." - Stephen Holden, New York Times 
"The tightly disciplined rhythm section, with Cliff Schmitt on double bass and Matthew Fries on piano is quite intoxicating," - Clive Davis, The Times (London) 
"...the rhythm section of pianist Matthew Fries, drummer Keith Hall and bassist Cliff Schmitt remains a model of understated momentum." - Clive Davis, The Times (London)
"...Schmitt is just so smartly attuned to every nuance in every measure that the effect is mesmerizing." -Richard Cohn, Larchmont Gazette 
Bassist Cliff Schmitt has performed thousands of gigs since his professional debut in 1992. From his first truly professional gig on the south side of Dallas with R&B legend Al "TNT" Braggs, to nightclubs in New York, Paris and Rio De Janiero, to crowds of thousands at festivals in North and South America, Europe and Asia. He was a resident of New York City for 22 years, but now spends most of his time in Germany. Cliff is currently the bassist for Concord recording artist Curtis Stigers, and co-leads a duo project with Guitarist/Harmonica player Noé Socha called Likho Duo. 
Live Performances: 
Jazz - Curtis Stigers, Jeanie Bryson, Rick Margitza, Larry Goldings, Dave Leibman, Ingrid Jensen, Paula West, Billy Hart, Von Freeman, Matt Wilson, Walter Perkins, Vic Juris, Ari Hoenig, Andy Middleyon, Till Brönner, Karolina Strassmayer, Rainer Böhm, WDR Big Band. 
Pop- Norah Jones, Art Garfunkel, Michael Bolton, Martha Reeves, Peter Noone, Gisele Jackson. 
Blues- Bernard Purdie, Philip Walker, Smokin' Joe Kubek, SaRon Crenshaw, Clarence Spady, Guitar Shorty, Michael Powers, Moe Holmes, Junior Mack, Bill Sims Jr., Jimmy Johnson, Dave Specter. 
Nightclub Performances: 
Blue Note, Birdland, Smalls, Terra Blues, Swing 46, Knitting Factory, Chicago Blues, The Bitter End, The Savoy, The Living Room, Cafe Carlyle, Detour, Sardi's, Session 73, The Garage, Green Mill (Chicago), Jazz Showcase (Chicago),House of Blues (Chicago), Ronnie Scott's (London), Duc de Lombards (Paris), New Morning (Paris), Bimhuis (Amsterdam), Jazzhouse (Copenhagen). 
Festival Performances: 
JVC Jazz Festival - NYC, Hampton Court Festival - London, Amersfort Jazz Festival - Holland, Montreaux Jazz Festival; Monte Carlo Jazz Festival, Ottawa Bluesfest, Chicago Blues Festival, Toronto Distillery Festival, Halifax Jazz Festival, Guinness Jazz Festival - Ireland, Efes Pilsen Blues Festival - Istanbul, Ankara, Izmir, Vienna Jazz Festival, Stuttgart Jazz Open, Rheingau Musik Festival, Silda Jazz Festival - Norway. 
Concert Halls: 
Royal Albert Hall, Berlin Kammermusiksaal, Frankfurt Alte Oper, Tonhalle Düsseldorf, Dublin National Concert Hall, Copenhagen DR Koncerthuset. 
Discography: 
Cliff Schmitt - "Strange Addiction" (Likho Records)
Likho Duo - "Blues and the World Beyond" (Likho Records) 
Curtis Stigers - "Hooray for Love" (Concord) 
Curtis Stigers - "Lost in Dreams" (Concord) 
Erin McDougald ft. Dave Liebman & Tom Harrell - "Outside the Soiree" (Miles High) 
The Weekly Reeders - "Interference" (Miles High) 
Michael Powers - "Prodigal Son" (Baryon) 
Michael Powers – "Onyx Root" (Baryon) 
Elizabeth Tomboulian ft. Ingrid Jensen - "Love's in Need of Love Today" 
Ted Brancato - "The Next Step" (Origin) 
The Chesterfields – "Henry Street Soul" 
David Caceres – "Trio" (Guild) 
Greta Gertler – "The Baby That Brought Bad Weather" 
Ron Sunshine – "Candy" (Golden Bug) 
David Brandom – "Home" (Blujazz) 
Roberta Piket - "I'm Back in Therapy..." 
Veronica Martell – "The Art of Intimacy" (Apria) 
Awry (ft. Shara Worden) - "Awry" 
Music for film: 

The Irishman (2019)
The Definition of Insanity (2004)